Guangzhou Library music: the way forward towards the brand
Published:2014-09-18
Author:
Source:
Views:3072
Guangzhou Cooley Refrigeration Equipment Co., Ltd. is a company engaged in refrigeration equipment trade, manufacturing, engineering design and installation of cold storage in one of the specialized companies, but also Germany Bitzer (BITZER) semi-hermetic compressors awarding agents and authorized service centers, is more than southern Region Zell closest partners. 2014 Fair Market line into the cold Cooley, Shen Hailin general manager, said the company is making a new round of restructuring and upgrading, the company is moving forward courageously brand on the road.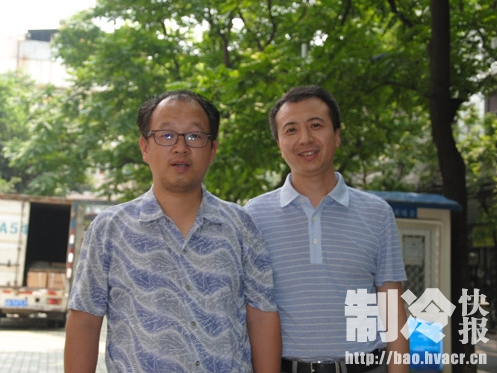 "Associating with a good brand of music to enhance the development of the library space, while in the development process, but also a profound understanding of the music library of self-importance of brand building, is beginning to change from within, build the core competitiveness, better maintenance market environment, and cooperation of mutual benefit and win-win business. "Shen said, after years of painstaking efforts, not only in the music library on the road of brand development has taken a solid pace, has won the favor of many brands, relying on strong technical force and good service, Cooley has made certain achievements, future music library will continue to increase brand building, from the inside out, at every step, so that customers within the industry in recognition of Cooley products, more recognized music library brand.
  "Advancing towards the truth will be the company brand constant pursuit." Refrigeration business reporter also understood that the current library music company not only equipped with professional production equipment and maintenance of test equipment, but also the production library music COOLEST wind (water) cold refrigeration compressors, parallel unit, low noise units, cold (hot) water unit and the quality and efficiency of their products, such as air-cooled two devices, Shen also said that in the production, future music library is also prepared to continue to improve the product mix, better adhere to provide high quality services, to create libraries of music influence.
  "Cold Bo market line" is the China Refrigeration and Air Conditioning and Heat Pump Energy Saving Exhibition (China cold Fair) visited the annual market activity, which lasted three months, through the representation of business visits, collection, control of the market the latest and most authoritative industry information, organize, summarize industry trends, path, provide a reference for the development of enterprises. It also will learn about the urgent needs of enterprise development, to provide targeted advice and assistance, and to analyze, evaluate local markets and areas of industry, for the majority of practitioners to open a "stay at home" is to understand the market window .
  China Cold Fair presentation
  Chinese refrigeration, air conditioning and heat pump energy-Fair (cold Fair) is organized by the Trade Development Bureau of Ministry of Commerce, China Information Technology Co., Ltd. Changsha strong contractor, China Survey and Design Institute of Building Environment and Equipment Branch co refrigeration industry's top exhibitions, and more times to obtain the Commerce Department, "China Top Ten Brands exhibition project" award, the Commerce Department is the only key support and guide the cooling project. http://www.hvacrex.com
Keywords: